Intergalactic Allies
'Roger Rabbit' creator Gary K. Wolf and Archbishop John J. Myers travel back in time and conquer the universe
February 28, 2007
by Joseph P. Kahn, Boston Globe Staff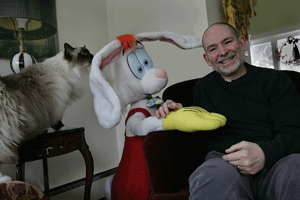 Roger Rabbit creator Gary K. Wolf relaxes
with his creation and his cat.
Photo by Suzanne Kreiter/Boston Globe
BROOKLINE -- Even by the standards of its era, when Buck Rogers and Flash Gordon ruled the comic- strip universe, "Space Hawk: The Greatest of Interplanetary Adventures" visited the outer reaches of pulp. Written by the pseudonymous Anthony Gilmore and first published in book form in 1952, it's considered a classic of the "space western" genre, with ray guns and rocket ships replacing six-shooters and stagecoaches.
To two boys growing up in rural Illinois 50 years ago, "Space Hawk' was pure stardust -- a voyage to a fantastic realm with enough real science behind it to ignite their young imaginations and turn both into sci-fi buffs. They devoured Gilmore's purple prose, committing whole passages to memory en route to sampling meatier fare such as Robert A. Heinlein and Isaac Asimov .
One boy, Gary K. Wolf, grew up to be a novelist and screenwriter best known for his "Roger Rabbit" books, which inspired the hit 1988 film "Who Framed Roger Rabbit." The other, John J. Myers , entered the Roman Catholic priesthood and rose steadily through its ranks to become Archbishop of Newark and a powerful voice in church affairs.
Their friendship never waned, though, and neither did their affection for a good old-fashioned intergalactic yarn.
Flash forward to six years ago, when Wolf tracked down a copy of "Space Hawk" to send Myers as a Christmas present. Two copies, actually. Wolf kept one for himself, curious to see how the book that had changed his life held up.
It didn't.
Myers, by phone from Newark , says rereading the Gilmore book made it painfully clear how bad it was. "I said to Gary , 'How did we fall in love with this?' "
"It was awful," recalls Wolf, sitting in his home office in Brookline . "Trite story. Cardboard yahoo characters. I called John, and he agreed. One of us, I'm not sure who, said it was a shame we couldn't rewrite it the way we remembered it."
Then Wolf called Myers a few days later and proposed doing just that: rewriting the story with all the 21st century embellishments that might engage modern readers.
Five years later, here comes "Space Vulture," due out later this year from Tor Books , a leading science fiction and fantasy publisher. Rather than a rewrite job, its authors say their novel is an homage to "Space Hawk" and the role it played in their lives long ago.
"We decided the original was irredeemable," Wolf says. "What John and I wanted was to capture the sense of wonder that appealed to us as youths."
Following a couple of false starts, Wolf continues, the two settled on a story line and cast of characters and began fleshing out the book, collaborating mostly via phone and e-mail. Wolf did the lion's share of the writing.
Reluctant to reveal too many plot details, Wolf does say the novel features a pair of heroes -- one more deeply flawed than the other -- plus a ghoulish villain who would do Darth Vader proud. Zombies and flesh-eating monsters figure in the story, too, he says, but there's no profanity or sex or graphic violence of the type Wolf is accustomed to writing.
"You don't put aside those sensibilities very easily, or at least I couldn't," he says. "John kept me honest."
Myers, a fan of "Lost," "Star Trek," and other sci-fi/fantasy staples, says that while not specifically a Christian book, "Space Vulture" does contain scenes of prayer and redemption, thanks largely to his input. "Also a struggle between good and evil, although I won't tell you which side wins -- in case we're asked to do a sequel."
Small-town start
However the novel fares commercially, the story behind its creation is a trip back in time (and space) to an era when comic books and adventure novels were capable of jet-propelling two kids from a small Midwestern town toward a future neither could readily imagine.
Born eight months apart in 1941, Wolf, 66, and Myers, 65, grew up in Earlville , Ill. , a town with a population of 1,400. Myers had six siblings, Wolf none. Myers's father was a farmer and milkman. Wolf's dad ran the local pool hall. Both boys loved science and reading -- everything from Batman comics to " Treasure Island " -- and formed their own club based on the cartoon character Scrooge McDuck . They played high-school football together, double-dated at their senior prom, and sang in their respective church choirs. Wolf describes the relationship as one between "friendly competitors" who strove to outdo one another academically yet were as close as brothers in most respects.
"Ironically, John's the reason I no longer go to church," jokes Wolf, telling the story of his family's Lutheran minister warning Wolf not to keep slipping into the Catholic church each Sunday to hear Myers sing. After that, Wolf says he not only stopped attending church but abandoned his previous plans to enter the ministry.
After high school, the two friends embarked on strikingly different career paths.
Myers went to Loras College in Iowa and then to seminary in Rome , where he was ordained in 1966. For much of the next three decades he served the Peoria ( Ill. ) diocese in several capacities, becoming, at 46, the youngest bishop in the United States prior to his installation as archbishop of Newark in October 2001.
Wolf graduated from the University of Illinois and enlisted in the Air Force, seeing duty in Vietnam before working as an advertising copywriter. His sideline job, writing sci-fi novels, took a quantum leap forward when he hit upon the idea of marrying two of his childhood passions, comic books and detective stories, and create a world in which humans and 'toon figures interact. Rights to his 1981 novel "Who Censored Roger Rabbit?" were sold to the Walt Disney Co. and Steven Spielberg . The rest, four Oscars included, is Hollywood (and Toontown) history.
'Uncharted territory'
Though Wolf and his wife, Bonnie, have worked on several other TV and film projects since, he admits that screenwriting has been a frustrating way to earn a living."
You spend two years creating these wonderful characters, and they get killed off when the project stalls," Wolf says. "Space Vulture" was no slam dunk, either, he notes, until Tor consulting editor Moshe Feder took an interest in the project. The co-authors signed a six-figure deal, split 50-50, after submitting an outline and several finished chapters.
Like Wolf, Myers has published extensively over the years, though almost exclusively in the form of pastoral letters addressing issues such as divorce, sexual abuse, and abortion. Was he worried that by lending his name to such an unorthodox project he'd risk offending church authorities?
"I don't know, because I haven't asked them," Myers says with a laugh. "If they're uncomfortable with this, I may find out soon."
Cleaning up the novel's language was "obviously a concern if they wanted my name on the project," Myers continues. "But Gary was very flexible. And there are no scenes inappropriate for children, and very little fighting, even."
Says Wolf, "The idea of a cleric at John's level writing an action-adventure novel goes into unchart ed territory."
Myers has promised to help promote "Space Vulture" when it reaches bookstores. A friend is a friend, after all. Or, as Space Hawk barked to his navigator when their ship came under attack by interplanetary pirates, "Use every watt you're given."
Joseph P. Kahn can be reached at jkahn@globe.com.
© Copyright 2007 Globe Newspaper Company.