Producing a Classic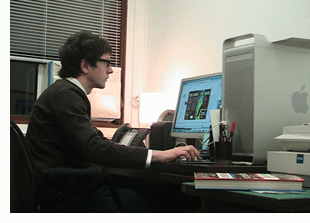 Peter Lutjen, TOR Senior Designer, hard at work on the Space Vulture cover.
Next came the important job of designing the book jacket. The cover had to perform several crucial marketing and sales functions. It had to give potential readers an intriguing idea of the kind of story inside. Its subject matter and style had to convey a sense of the book's pulp fiction heritage. It had to be extremely eye-catching, able to successfully compete for attention with the hundreds of other books lining bookstore shelves.
That complex and difficult design task went to Peter Lutjen, Senior Designer at TOR.
"I had a great head start on this jacket," says Lutjen. "Irene Gallo, Tor's Art Director, had admired artist Glen Orbik's work in Spectrum and for the Hard Case Crime series. She realized that he'd be perfect for this project." Gallo commissioned Orbik to do the art. "Irene was right," Lutjen continues. "Glen produced a terrific painting. In style and execution it was exactly what we wanted."
Art in hand, Lutjen began his design process by accumulating a number of modern retro-futuristic typefaces that he thought might be appropriate. Using these, he did a number of preliminary layouts. Lutjen explains what happened next. "Something wasn't right. Everything I came up with seemed to have a 1970s feel, several decades newer than what I wanted. I realized I needed to actually go back in time and take a closer look at the original source material.
"Flipping through pages of reproductions of original pulp SF novels, I began to notice an interesting fact. In contrast to the dramatic and often lurid artwork, the type the novels used was generally fairly conservative, simply set in a conventional sans-serif face. The two typefaces used on Space Vulture, Franklin Gothic (for the title type,) and Futura (for all additional copy — author names, quotes, flap copy, etc.) popped up pretty often in the old originals. Whether those pulp-era designers used those type styles so as not to compete with the artwork or because they felt those styles expressed a sense of the future I can't say. Whichever, this approach definitely worked."
Once Lutjen settled on the typefaces, he did another interesting bit of cover design. He graphically distressed the artwork around the edges to suggest the distinct signs of age and the well-worn look original pulp novels and magazines acquire after having spent the last several decades piled on the floors or sitting on the shelves of used bookstores, or tucked away in boxes in the attics and cellars of devoted readers who bought them new and can't bear to throw them out.

An early draft of Peter Lutjen's
Space Vulture cover included the words COMPLETE AND ABRIDGED above the title, an homage to original pulp magazines which frequently used that line to describe stories. TOR eventually dropped the line fearing it might confuse readers unfamiliar with its historical significance.

Lutjen did try one homage which didn't make it to the final cover. "Designers generally don't have a say in the actual jacket text," says Lutjen. "We take what we're given, and design with it. After looking at all of those pulp originals, I tried to sneak in a little extra bit of copy onto the Space Vulture cover. Above the title, I added the line 'COMPLETE AND UNABRIDGED!' That line that appeared frequently on the covers of old pulp science fiction magazines. It was a statement that was well understood by readers of the era. It meant that the story inside was complete. It wasn't part of a multi-installment serial. It hadn't been abridged from a longer, previously published novel. I showed that version as a comp around the office. While I thought the line added a note of authenticity, Sales and Marketing folks felt that today's readers would be puzzled and confused by the line's meaning. So I took it off on the final."