Archbishop John J. Myers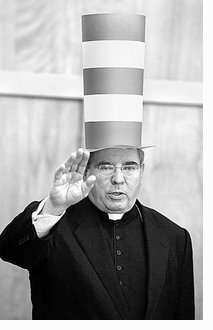 The Most Reverend John J. Myers, fifth Archbishop of Newark, grew up on the family farm near Earlville, Illinois. The seven Myers children all worked the farm with their father and helped him on his second job as town milkman.
Myers completed his undergraduate studies at Loras College in Dubuque, Iowa. Father Myers was ordained a priest at the Altar of the Chair in St. Peter's Basilica, Rome. He received a Licentiate in Sacred Theology from the North American College, Gregorian University, Rome and a Doctorate in Canon Law from Catholic University in Washington, DC.
Father Myers' first assignment was as assistant pastor at Holy Family Parish, Peoria, Illinois. He then served in the Department of International Affairs of the United States Catholic Conference. He next became associate pastor of St. Matthew Parish, Champaign, Illinois.
In the Diocese of Peoria, Father Myers held administrative positions as Administrator of St. Mary Cathedral; diocesan Vice Chancellor; Vocations Director; diocesan Chancellor; and diocesan Vicar General. He also served as a member of the diocesan Presbyteral Council and Board of Consultors.
In 1987, Bishop Myers was installed as Coadjutor Bishop of Peoria, and acceded to the See of Peoria in 1990.

As a member of the National Conference of Catholic Bishops, Archbishop Myers has served on the Canonical Affairs Committee, Committee on Shrines and Pilgrimages, Committee on Vocations, Ad Hoc Committee on Sexual Abuse, Committee on Hispanic Affairs, and Committee on Aid to Eastern Europe.
Bishop Myers has participated extensively in numerous Canon Law Projects, He has produced scholarly writings on a range of topics including diocesan finance, ecclesial ministries, the rights of unborn children, and the family.
In 2001, His Holiness Pope John Paul II called John J. Myers to serve as the fifth Archbishop of Newark, NJ.
Click here to see Archbishop John J. Myers' Education, Appointments and Board Memberships.
Click here to visit Archbishop John J. Myers' website.